Are you one of the millions wondering as to why high onion prices in India have become a regular feature?
Among the many staples of Indian cooking, onion is perhaps the most ubiquitous. Yet, if there is one Indian culinary item whose price invariably takes on an upwardly trajectory all too often, that too is an onion.
Why exactly are things like this? We explore this interesting facet of the Indian agricultural economy, in reasonable detail.
Floods, Unseasonal Rains
Off late, rains have often been unpredictable as well as generally excessive in various parts of the country. Now, unfortunately, we find that this has especially been the case in many of the onion growing parts of India. The states of Maharashtra, Karnataka, and Gujarat are at first, second, and third positions as far as onion production in the country is concerned, and they have all been receiving excessive, unseasonal rain.
This bit about excessive and unseasonal is especially important for understanding high onion prices in India – farmers simply weren't prepared for these rains when they arrived.
Poor Storage Facilities
In spite of being one of the most agriculturally blessed nations in the world where most common crops grow with ease, India is yet to take its storage facilities to the level seen in most other advanced economies.
Across the entire supply chain from farm to market, there is immense spoilage and wastage that is still seen in India. Besides storage, we find that during the transportation phase too, a lot of agricultural produce simply goes waste.
In this case, among the many crops that suffered, onion was no exception, This, in turn, affected the overall supply of onion in the market (reducing it), and as basic economics will tell you – when demand exceeds supply, prices are bound to go up.
Greedy Hoarders
It is really unfortunate that during tough times, there are unscrupulous elements that look to make a quick buck. In this case, many hoarders simply look to cash in on excess demand for onions by hoarding it, which only reduces already dwindling onion supplies.
This has a cascading effect as onion prices go further up.
These hoarders tend to release their supplies in limited quantities such that the price of onions in India continues to be high.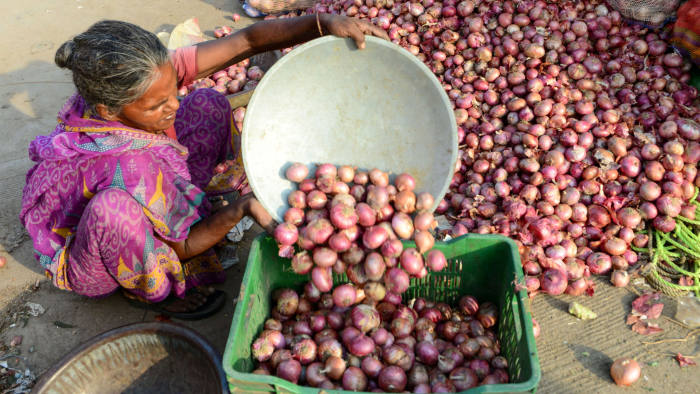 Onion Import and Export Related Issues
Both import and export of onions have brought forth their own unique set of challenges. Let us explain below.
Firstly, India has not been very forthcoming about importing onions, even after facing issues as described above, especially the impact that adverse weather has had on onion production in the country.
Only when things got really out of hand – with retail onion prices touching Rs. 100/- a kilo or beyond, did the authorities wake up to the urgent need for importing onions.
In the same breath, onion exports continued when they should have stopped much earlier, to keep onion supplies robust. Again, only when it was really very late did India stop onion exports from the country.
Absence of Agricultural Insurance
Across the entire agricultural supply chain in India, we find insurance to be a starkly missing component. In spite of the numerous risks that are involved, we find that farmers and other stakeholders hardly make any attempt to secure themselves with insurance cover.
As we highlighted above, rain and other natural elements (including drought) have played havoc with agricultural output (especially onions) in so many different ways.
That is the reason, we have always stressed on the quintessential importance of rural insurance in India. Once this kind of rural insurance becomes more commonplace in India, prices of commodities like onions in India are bound to cool down.
Conclusion
There is no one single factor that has caused onion prices in India to be at such high levels. Instead, it is a combination of various factors that have all worked in tandem to cause havoc in the Indian agricultural market, especially leading to soaring onion prices in India to levels that have never been seen in the past.
Hopefully, adequate lessons have been learned such that we do not see such astronomical onion prices in India, in the future.