Senior citizen health insurance is an absolute must once you cross a certain age threshold where disease and illness are more than likely to strike. By opting for this particular old-age insurance, you are covering yourself (or your loved ones) against a wide array of medical emergency situation expenses that may spring up just when least expected.
Before we get to the benefits themselves, "senior citizen" in the context of old age insurance typically refers to folks between the ages of 60 and 75. Insurance companies may not easily consider folks outside this age bracket for senior citizen health insurance.
Further, it is also good to know about the old-age insurance plan types, which usually include individual plans for the policyholder, as well as family floater plans which cover not only the policyholder but also his/her family against a whole host of medical expenses.
Pre-Existing Diseases
With most health/life insurance plans, you will find pre-existing diseases not being covered. But with senior citizen health insurance, in particular, you will find that a lot of pre-existing diseases and illnesses are in fact covered.
It won't be appropriate to speculate on the exact number or kind of pre-existing illnesses that are covered but suffice it to say that a lot of them are indeed covered.
Also, bear in mind that you do need to wait it out for a while before pre-existing diseases would be covered on your senior citizen health insurance. Once this waiting period passes, you will be notified of the entire listing of diseases covered by your old age insurance policy.
Hospitalisation and Related Costs
Hospitalisation is an unfortunate recurrence in the lives of many senior citizens. From time to time, they need to visit the hospital or the doctor's clinic for treatment and check-up. Further, they need to collect medicine which also costs a reasonable sum.
Altogether, the expenses add up fairly quickly.
Senior citizen health insurance ensures that seniors themselves or their near and dear ones do not have to hurt themselves financially in meeting these expenses. Instead, the policy will cover nearly all the expenses involved, be it hospitalisation, medications, doctor consultancy, and all other ancillary costs associated with these activities.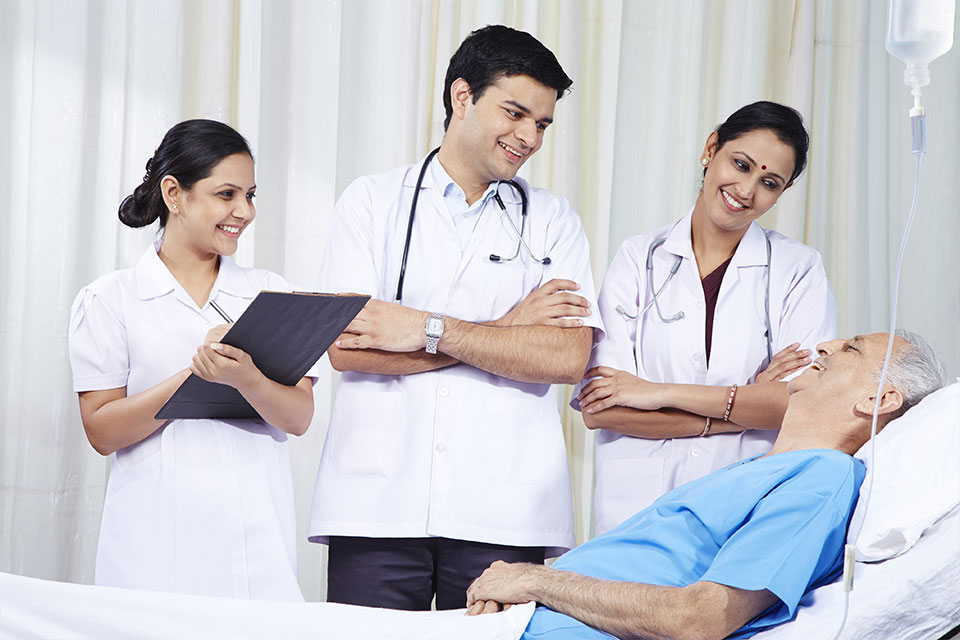 Expenses Before and After Hospitalisation
With senior citizens (especially), many medical emergencies and their associated costs can arise well before one actually gets to the hospital. Let's say, a pre-existing condition such as diabetes which anyway required constant monitoring and medication (involving reasonable expenses) escalated suddenly into a hospitalisation situation, after which, those expenses only added up exponentially.
In such a scenario, senior citizen health insurance really proves very useful since it ensures that there are no out-of-pocket expenses to be incurred by policyholders or their loved ones; the policy takes care of those expenses.
Home Treatment Coverage
For many senior citizens, it is not always about hospitalization related medical expenses; rather, they remain at home and yet need treatment, which of course costs them or their loved ones a pretty penny.
An instance would be the cost of hiring a nurse to take care of an elderly person in an advanced stage of senility. Or a kidney patient requiring continuous dialysis at home which, needless to say, involves considerable expenses.
In both instances, medical treatment can be availed without concerns over costs, thanks to senior citizen health insurance.
Wide Range of Coverage with Flexible Claim Processes
In India, the range of coverage on senior citizen health insurance as offered by most insurance companies, is quite vast, starting from about Rs. 50,000/- going all the way up to Rs. 6 Crores. This wide range offers enormous flexibility such that even the gravest medical emergencies involving really significant expenses can be covered.
Further, claim processes on old-age insurance are also quite flexible. Typically, they are of two types:
Cashless – You pay nothing to the concerned hospital/doctor or other concerned entity. The insurance company will pay them directly.
Reimbursement – You do pay to the concerned entity; you are subsequently reimbursed for the payment you made, by the insurance company.
Conclusion
Clearly, senior citizen health insurance is an absolute must for elderly folks and their loved ones, especially given the uncertainty with which medical expenses arise, invariably just when least expected.